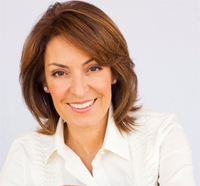 I'm excited to kick off my inaugural #MompreneurMonday post with a salute to one of my role models, Suzy Welch. There is a lot to admire about Suzy, but I am committed to keeping my posts short and sweet (what a novel concept!), so I'll summarize.
Suzy Welch, former editor-in-chief of the Harvard Business Review, is a work-life columnist for O The Oprah Magazine. She is the coauthor, with her husband Jack Welch, of the New York Times bestseller "Winning" and of "The Welch Way," published in BusinessWeek magazine and internationally by the New York Times Syndicate.
I first learned about Suzy's innovative decision-making process when I listened to her audiobook, "10-10-10: A Fast and Powerful Way to Get Unstuck in Love, at Work and with Your Family;" her brutal honesty about her life and particularly the challenges of being a working mom are absolutely refreshing and I recommend it to anyone who has ever struggled with decision-making.
Since learning about it, I have used this process countless ways in many aspects of my business and personal life, and can attest that it has brought me significant perspective as well as saved me valuable time and energy.
As she recently told the audience during her keynote address at Business Insurance's 2012 Women to Watch Awards Luncheon, "We can't wait for these decisions to make themselves," Ms. Welch said. "We love to work, and we love our families. We love the messes and the great days equally, at home and at work. But it all just has so much momentum, and it will pass us by if we don't grab those decisions and make them from the inside out."
Amen! Thank you, Suzy!