I've been following the Lance Armstrong story with more attention than most people, since I'm the daughter and wife of cancer survivors. The Fertile Hope organization was an invaluable resource when my husband, Paul, was diagnosed with a rare lung tumor and we needed answers about our future fertility options; they were later acquired by LIVESTRONG, and when Paul had recovered from his surgery and treatment, he rode a 50-mile bike race to raise over $8,000 for the international cancer charity's support services.
So of course I'm incredibly saddened by Lance's huge mistakes. But I share the thoughts of so many in the cancer community that are clearly and concisely summed up in this graphic that circulated social media this week: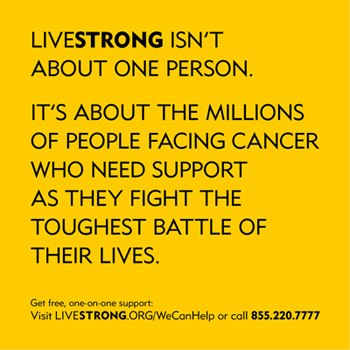 I also wanted to share this post that I saw on the LIVESTRONG blog when I popped over there during lunchtime:
Our Voice: The Story of LIVESTRONG
A lot has been said about the Foundation in recent weeks, but often times our voice is missing from the story being told. Our work has always been about helping the people affected by cancer. In an effort to better share what we do with you we're introducing you to several of the Foundation staff members in charge of our valuable programs and services—the people who work hard every day to make sure the needs of cancer survivors and their loved ones are met. Stay tuned for more videos in the coming days and weeks.
In my humble opinion, the LIVESTRONG organization has handled its leader's indiscretions as well as possible, teaching us all a valuable lesson in public relations by setting an example of grace and class. I pray that the public will remember the true vision of this non-profit and the thousands of cancer patients and families they help every day, including mine.