I love to remind my clients how social media provides a megaphone for word-of-mouth referrals so it's essential to be sure you're harnessing that power effectively. As one marketer put it on the blog recently, "The value of positive endorsements on social media sites is beyond compare."
So it made me so happy when I saw one of my new clients, Meredith at Cucumber & Chamomile, using her new Facebook business profile to endorse another one of my clients, Minuteman Press: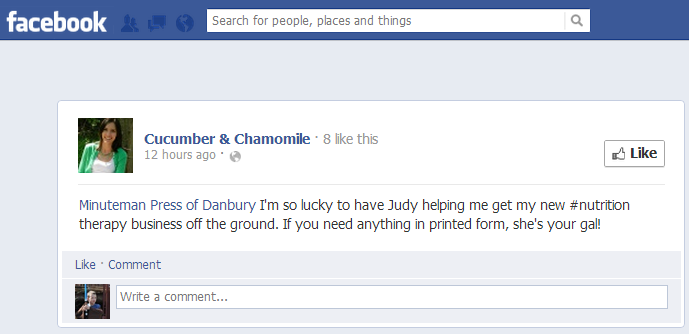 So that brings me to one of my favorite social media tips: it's a 50/50 relationship. You should spend as much time spreading the word about other companies you support as you do spreading your own message; the law of reciprocity will kick in and you'll be feeling the love in no time!