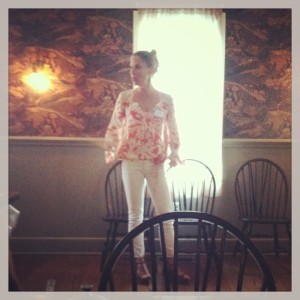 Today I had the pleasure of hearing my friend and client, Michelle Maturo of Elevation Spinning and Personal Training, talk to the Redding, CT pod of our Believe, Inspire, Grow (B.I.G.) networking group.
Michelle was one of my first clients and I look up to her in many ways. We met at a B.I.G. lunch in Ridgefield shortly after the group (and my company) started and I loved her energy from the moment we met; she has quite a presence and is very outgoing, even in a room full of strangers. We also have a lot in common – after corporate careers in Manhattan, we both moved back to our hometowns to reinvent ourselves professionally and personally.
At today's lunch, she shared her story of opening Elevation several years ago and helping her clients, mainly women, take care of themselves so that they can live fuller, happier lives.
A few takeaways from her talk:
1. "Every day I walk into this studio and feel blessed." What an incredible attitude, to openly appreciate the life she has built. In this way, Michelle taps the law of attraction and attracts so many ideal clients, who then become her brand ambassadors and go sing her praises in the community, bringing in even more clients.
2. "We have to make exercise realistic for you." I think we can all learn from this common-sense approach, no matter what aspect of our life we're considering. Set yourself up for success, whether you're thinking about your exercise routine or your business, and create systems and patterns that will work within the framework of your life.
3. "Trust your gut and tap into your vision." When Michelle was creating Elevation, she honed her focus from her love of fitness down to her skill as a spinning instructor; that was the area she knew and loved most. "I wasn't a kickboxing instructor; I wasn't a yoga instructor. Spinning and cycling were my passion, and I think that's why I've been successful, because I cultivated that niche in the community." Similarly, business owners often start out thinking/hoping they can be all things to all people, but eventually learn that success comes with true focus.