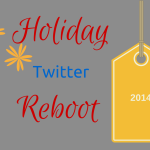 For those of you who have been hoping Twitter would just go away so you wouldn't have to figure it out, I have bad news for you…
It's not going anywhere. In fact, it's the fastest growing social network in the world by active users and 70% of small businesses are already engaging with customers on Twitter. So even if you're not, your competition most likely is.
If you have a Twitter profile that you've been neglecting, my
Holiday Twitter Reboot
starts
Monday
and could be a great fit for you. Simply delegate it to me for six weeks – I'll boost your following and you'll have more time and energy to do what you love this holiday season (it's okay if you don't love social media…that's what you've got me for).