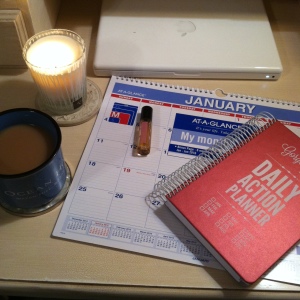 I'm in major planning mode and it feels so good! So often as entrepreneurs and moms, we operate in reactive mode, putting out fires and responding to the needs of our clients, our families, basically everyone but ourselves.
That's why it feels terrific, particularly at this time of year, to set aside some time to plan for success in the year ahead. That's my gift to myself today, and I thought it would be fun to share a few of the tools that are helping me dream BIG!
– First things first: COFFEE! Specifically, Green Mountain Pumpkin Spice that my husband put in my stocking (love him!) in one of my favorite blue mugs from the Ocean House in Watch Hill, RI because I'm a beach girl at heart.
– A candle, to remind me to always shine bright and that as James Keller said, "a candle loses nothing by lighting another candle."
– My laptop.
– My InTune Focus Blend of doTerra essential oils to help me focus my attention and tune out the noise around me (anyone else trying to be productive while the whole family is home? I feel you!). SO glad my friend Dr. Mara introduced me to this incredibly product!
– An old school desktop calendar because I'm a visual thinker.
– The Daily Action Planner from Savor the Success. An incredible tool and mindset resource!
– Not pictured: my hot pink pencil that I use for both my calendar and planner to remind me to be flexible and have FUN.
So that's a little bit about how I'm getting ready for 2015. What about you? What are your tools for success?