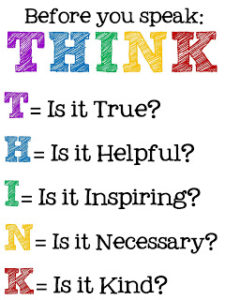 There is so much negativity in the world right now, and many people seem to think social media is the perfect platform for that energy. Maybe people feel safe voicing their fears, anger and frustration in this way, using hurtful language to tear other people down. This hurts my heart and the hearts of so many people I love.
But it doesn't have to be this way. Social media can also be used like a megaphone, to shine a spotlight on what we love and respect in the world. Here are a few ways you can do this if you so choose:
1. Say thank you! There is incredible power in gratitude. Many of us write thank you notes / emails / texts. Why not take it a step further and post this on social media? Whether you're thanking a friend for dinner or a business that went the extra mile, you'll most likely make the recipient's day.
2. Spotlight your favorite charity. Let's face it, most charities don't have much in the budget for advertising and promotion. That's why they need all the help they can get spreading the word about their missions. There are so many charities that are doing good in the world. Take a moment to tell people which one(s) you support and why. Facebook Reviews are a great place to do this.
3. THINK before you speak (or post). The THINK acronym pictured is one of my favorites. Whether dealing with my kids, friends, family or clients, this comes to mind a lot, and I joke that I'm going to have it tattooed on some people's foreheads. Consider it you're new Golden Rule before posting!
So remember, there are too many people spewing unkindness on social media. Why not be someone who instead spreads joy?